Register workshop
Would you like to register for one of the workshops below? Then fill in the form on the contact page.
Click here to register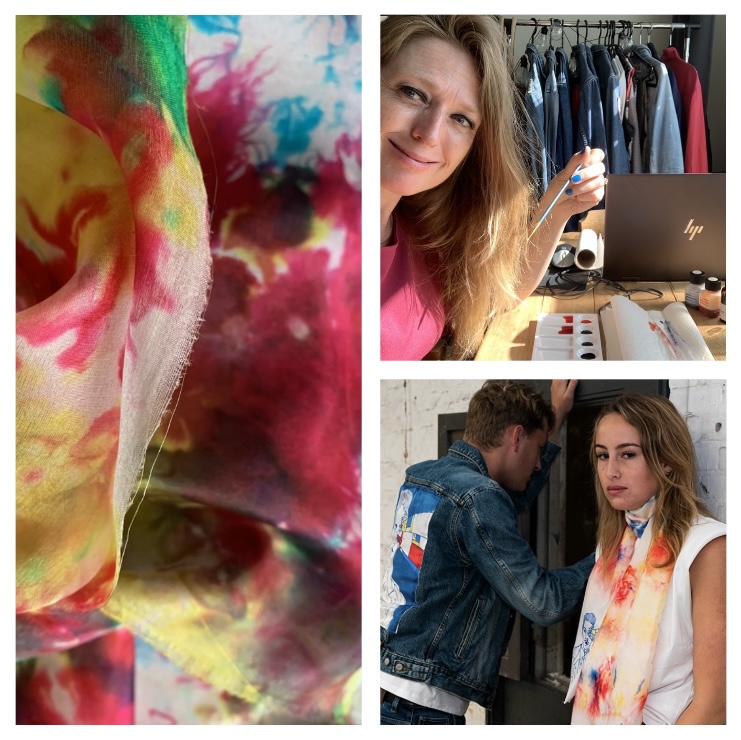 Silk scarf painting
In this 4-hour workshop you will paint and fix (waterproof) your own scarf measuring 45 x 180 cm using two different silk painting techniques.
The workshop takes place in Amstelveen and Emmen.
We work in a group of 4-6 people. You can register as a group by appointment or as inidividual on the following dates at the SAKB in Amstelveen:
Saturday, July 1, 2023, Saturday, August 26, 2023, Saturday, September 23, 2023 and Saturday, October, 2023 from 1:30 P.M. to 5:30 P.M.
Work is done in a group of 6-8 people. You can register as a group by appointment or as inidividual on the following dates at MicksArt Gallery in Emmen:
Sunday, May 21, 2023 and Sunday, September 24, 2023 from 1:00 P.M. to 5:00 P.M.
Price of the workshop: € 75,- per person. The price includes coffee/tea and materials, including a natural silk scarf worth € 20,-.
SAKB, Ouderkerkerlaan 15 te Amstelveen
MicksArt Gallery, Kapitein Grantstraat 24 te Emmen

Children's party 'making a silky soft cuddly pillow'
Painting on silk is an ancient technique that has actually been somewhat forgotten, which is a shame, because it is a versatile technique that is very relaxing to do! Yet it is possible to learn something of this unique technique at your party. At the end of the party, everyone goes home with a wonderfully soft hand-sized cuddly pillow. What a nice keepsake that is!
What do we do?
To become familiar with the materials, we will first mix silk paint and paint a color cirkle on silk, we will learn a salt technique and learn what is it like to trace a pattern on silk with serti. Once we have mastered these techniques, we will paint a predetermined and drawn image for the cushion on a new stretcher. When this painting is dry, we remove the silk and sew it with a needle and thread onto the cushion, which already has a soft fur layer on one side. With your personal painting it becomes truly unique!
Because the technique is quite difficult to learn, this party is suitable for children aged 9-12 with a group size of 6-8 children. The workshop lasts 2 hours including a break and costs
€ 225,-, including materials and excluding location and transport costs outside Amsterdam.